Welcome to our Grand Online Book Discussion!
This month, we will be discussing the
Harry Potter and the Order of the Phoenix.Note:*
We have created a
Bulletin Board
where you can find discussion updates & announcements. If you have questions and suggestions, please feel free to post them
HERE
.
*
Every weekend, a game will be provided where everyone are very much welcome to join.
*
We encourage fun and healthy discussion. Foul and offensive languages/ opinions will not be tolerated. Respect is highly observed.
Thank you very much and we are looking forward to all your responses.
Discussion Leaders,
HG Severusa.Snape & HB Siyuske_Tryeth
Chapter 25: The Beetle at Bay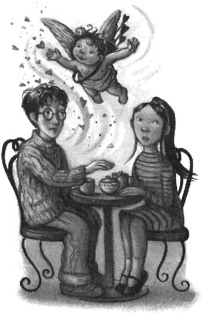 Hagrid finds out he is on probation. Harry's scar is hurting more often and the only things he looks forward to are DA meetings. On Valentine's Day, Harry agrees to meet Hermione at midday but goes off with Cho for the morning. They go to a café where other couples are talking and kissing. Harry feels out of his depth and very nervous. Cho tries to talk about Cedric but Harry won't. Harry is tactless and says he has to go to meet Hermione. Cho gets very upset and storms out.
Harry meets Hermione who is with Rita Skeeter. After some discussion, Harry agrees to give Rita an interview with all the details of what happened to Cedric and the fight with Voldemort. It will be printed by Luna Lovegood's father in The Quibbler. Rita points out that the Daily Prophet only exists to sell itself and does not have good standards of independence. Harry names all the Death Eaters assisting Voldemort in the article.
Question:
Why would Animagi be required to be registered with the Ministry of Magic? What happens if they don't?

---
Permissions in this forum:
You
cannot
reply to topics in this forum