Welcome to our Grand Online Book Discussion!
This month, we will be discussing the
Harry Potter and the Order of the Phoenix.Note:*
We have created a
Bulletin Board
where you can find discussion updates & announcements. If you have questions and suggestions, please feel free to post them
HERE
.
*
Every weekend, a game will be provided where everyone are very much welcome to join.
*
We encourage fun and healthy discussion. Foul and offensive languages/ opinions will not be tolerated. Respect is highly observed.
Thank you very much and we are looking forward to all your responses.
Discussion Leaders,
HG Severusa.Snape & HB Siyuske_Tryeth
Chapter 32: Out of the Fire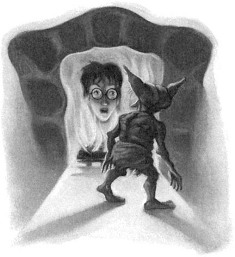 Harry is frantic about Sirius, and rushes to the infirmary to see the only member of the Order of the Phoenix that he can think of: Professor McGonagall. Madam Pomfrey says that Professor McGonagall has been transferred to St. Mungo's Hospital. Harry is unsure what to do; Dumbledore, McGonagall, and Hagrid are now gone. He runs to find Ron and Hermione. Convinced his vision is real, as the vision of Ron's dad had been real before Christmas, Harry wants to go immediately to the Ministry of Magic in London to save Sirius.
Ron volunteers to distract Umbridge, while Ginny and Luna stand guard outside her office. Harry and Hermione, under Harry's Invisibility Cloak, sneak into the empty office. Harry uses Floo powder to contact Grimmauld Place. Kreacher, the Black family House Elf, answers and tells Harry that Sirius has gone out. Harry demands to know if Sirius has gone to the Department of Mysteries, and Kreacher says Sirius did not tell him, but adds gleefully that Sirius will never come back.Umbridge suddenly yanks Harry from the fireplace, demanding to know who he is speaking to. Ron, Luna, Hermione, Ginny, and Neville have been captured by Umbridge's Inquisitorial Squad.
When Harry refuses to answer Umbridge, she sends Malfoy to fetch Snape. Harry suddenly remembers that Snape is an Order member. Snape arrives, and Umbridge asks him to use Veritaserum on Harry. Snape says that he gave Umbridge his entire stock, reminding her that three drops would have been sufficient; it will take a month to brew more. Harry desperately yells, "He's got Padfoot at the place where it's hidden." Umbridge asks what this means; Snape coldly replies he has no idea what Potter is blathering about, and leaves.
Question:

How does Professor Snape know that Padfoot is Sirius' nickname?
Since Snape and Sirius attended the same year in Hogwarts, I don't think that Sirius and the other Marauders' nicknames were safely kept in secret, if they were intended to be so in the first place. Besides, Sirius and his gang were popular among the other students so even regular students might not have needed to sneak up to them (and do a Snape through the Whomping Willow) to overhear the young men using their nicknames. There is also the fact that Snape, being in the Order with Sirius might have found out about the nickname at some point.

Kay

Dodging Peeves' Water Balloons at the Entrance Hall




Posts

: 39


Join date

: 2011-02-15




---
Permissions in this forum:
You
cannot
reply to topics in this forum