Welcome to our Grand Online Book Discussion!
This month, we will be discussing the
Harry Potter and the Order of the Phoenix.Note:*
We have created a
Bulletin Board
where you can find discussion updates & announcements. If you have questions and suggestions, please feel free to post them
HERE
.
*
Every weekend, a game will be provided where everyone are very much welcome to join.
*
We encourage fun and healthy discussion. Foul and offensive languages/ opinions will not be tolerated. Respect is highly observed.
Thank you very much and we are looking forward to all your responses.
Discussion Leaders,
HG Severusa.Snape & HB Siyuske_Tryeth
Chapter 38: The Second War Begins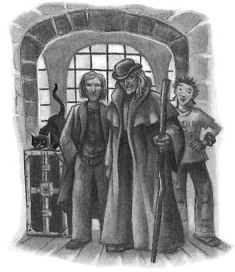 Harry is in the hospital wing with Ron, Hermione, Ginny, Neville, and Luna. Dumbledore saved Umbridge from the Centaurs, and she is also in the hospital. Harry hasn't told his friends about the prophecy. He tells his friends he is going to see Hagrid, but instead he sits at the edge of the lake and cries.
Professor McGonagall makes a full recovery and returns to Hogwarts. The day before the end of term, Umbridge leaves the school. Ron rushes off to the Great Feast, but Harry stays behind to pack. Harry finds the wrapped package Sirius gave him at Christmas. He rips the paper off and finds a mirror with an inscription on the back, instructing Harry to use it to communicate with Sirius. Harry shouts into the mirror but receives no reply. Devastated, Harry throws the mirror down, and it shatters. Harry decides to seek advice from a Hogwarts ghost and finds Nearly Headless Nick. Nick explains that not all dead wizards are turned into ghosts. Harry, upset, runs into Luna, who asks about Sirius. Remembering that Luna can see the thestrals, he asks her if anyone she has known has died. Luna says her mother died when she was nine. She tells Harry that the voices behind the curtain at the Department of Mysteries are the voices of wizards who have died. Harry is not sure whether to believe her or not.
The next day, all Hogwarts students board the Hogwarts Express. Cho walks by, and Harry does not meet her eyes. He tells Ron that nothing is going on with Cho anymore, and Hermione gently informs him that Cho is now dating Michael Conner. The news doesn't bother Harry. When the train pulls into Kings Cross, Harry sees several members of the Order waiting for him. Lupin spots the Dursleys, and Moody, Tonks, and Mr. Weasley insist that they treat Harry fairly while he is home for the summer. Moody tells Harry that if he doesn't hear from him for three days in a row, he will send someone to check up on him. Ron and Hermione promise to see him soon, and Harry heads back to Four Privet Drive.
Question:

Did Harry's delay in opening the Christmas present from Sirius contribute to Sirius' death? If so, how?

---
Permissions in this forum:
You
cannot
reply to topics in this forum