Welcome to our Grand Online Book Discussion!
This month, we will be discussing the
Harry Potter and the Order of the Phoenix.Note:*
We have created a
Bulletin Board
where you can find discussion updates & announcements. If you have questions and suggestions, please feel free to post them
HERE
.
*
Every weekend, a game will be provided where everyone are very much welcome to join.
*
We encourage fun and healthy discussion. Foul and offensive languages/ opinions will not be tolerated. Respect is highly observed.
Thank you very much and we are looking forward to all your responses.
Discussion Leaders,
HG Severusa.Snape & HB Siyuske_Tryeth
Chapter 37: The Lost Prophecy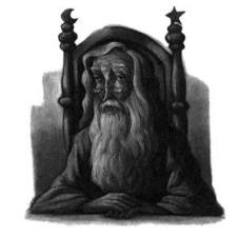 Dumbledore meets Harry in his office. Harry is visibly upset about Sirius's death. Dumbledore tells Harry this pain is his greatest strength. Dumbledore admits it's his own fault that Sirius is dead because he never told Harry the whole truth about his scar. Dumbledore explains. On the night Harry saw Mr. Weasley attacked, Voldemort figured out that Harry's scar allowed Harry to be privy to Voldemort's thoughts and actions. Assuming this connection must work both ways, Voldemort began forcing his way into Harry's thoughts, which is why Dumbledore ordered Snape to give Harry Occlumency lessons. Voldemort knew the only person Harry would go to great lengths to save was Sirius, so he projected the image of Sirius's torture into Harry's mind. Voldemort needed Harry to retrieve the prophecy because he could not risk entering the Ministry himself, and no one else would ever be able to touch it.
Dumbledore continues his explanation. Sixteen years ago, Sybill Trelawney made a prophecy about a boy who was born at the end of July to parents who had defied Voldemort three times. This part of the prophecy could have applied to either Harry or Neville, who was also born at the end of July to parents who were members of the Order. However, the prophecy went on to say that Voldemort would mark the child as his equal, choosing the boy that he believed would be the most dangerous to him. Dumbledore believes Voldemort chose Harry because Harry was a half-blood, just like Voldemort. But Voldemort only heard the first part of the prophecy. The second part proclaimed that the child would have powers that the Dark Lord would not know, and that either must die at the hand of the other, for neither can live while the other survives. Dumbledore tells Harry that the distinguishing power he has is love.
Question:

What might have been the result if Dumbledore had instructed Harry in Occlumency, rather than Snape teaching him?


What might have been the result if Dumbledore had instructed Harry in Occlumency, rather than Snape teaching him?

--I personally think that if Dumbledore had been Harry's instructor in Occlumency, Harry would have learned more about it. Harry's relationship with Professor Snape had gotten its way during the lessons. I believe that Harry's attitude to Prof. Snape or vice-versa is one of the factors why he never learned/ mastered it. We all know the bitter relationship of the two. Although Snape did teach Harry, the former in one way or another, would not let a day end without criticizing Harry. Somehow, this criticism discouraged the latter in mastering or learning Occlumency. Had it been Professor Dumbledore, Harry would have been more cooperative in learning Occlumency and in the end, there's a higher chance of achieving a better result.

loonyphy

Sitting in Agony in Snape's Potions Class




Posts

: 205


Join date

: 2011-05-16


Location

: Ministry of Magic




---
Permissions in this forum:
You
cannot
reply to topics in this forum