Welcome to our Grand Online Book Discussion!
This month, we will be discussing the
Harry Potter and the Order of the Phoenix.Note:*
We have created a
Bulletin Board
where you can find discussion updates & announcements. If you have questions and suggestions, please feel free to post them
HERE
.
*
Every weekend, a game will be provided where everyone are very much welcome to join.
*
We encourage fun and healthy discussion. Foul and offensive languages/ opinions will not be tolerated. Respect is highly observed.
Thank you very much and we are looking forward to all your responses.
Discussion Leaders,
HG Severusa.Snape & HB Siyuske_Tryeth
Chapter 33: Fight and Flight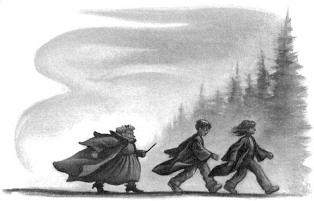 Hermione leads Umbridge and Harry (who is trying to look like he knows where they are going) into the Forbidden Forest.As they approach a clearing, an arrow whizzes through the air, hitting a tree. About fifty Centaurs appear on all sides, demanding to know why the humans are in their forest. Treating them as inferior half-breeds, a haughty Umbridge unleashes an insulting tirade, infuriating the Centaurs. When she binds Magorian, the Centaurs charge; Harry and Hermione duck to avoid the flying hooves. Bane seizes Umbridge; she drops her wand, but before Harry can reach it, another centaur has stepped on it and broken it. As other Centaurs lift up Harry and Hermione, they see Bane carrying the hysterically screaming Umbridge into the woods. Hermione tries explaining the situation to the other Centaurs, hoping to gain their sympathy, but they only become angrier at being involved in human affairs and want to attack her and Harry. Despite her protests that they are "foals", and Ronan's reminder that they do not attack young humans, the Centaurs consider Harry and Hermione as devious as their adult counterparts. As they are about to carry off Harry and Hermione, Grawp crashes through the trees.
Question:

Ron, Ginny, Luna, Neville, and Hermione insist on going with Harry to the Ministry of Magic to help save Sirius. Why does Harry only want Ron to accompany him?
Although at first, Harry was strongly convinced of the veracity of his dream, I think that Hermione's objections and the fact that Harry never learned Occulemency might have cast a shadow of doubt in his conviction. A part of him must have hoped that Sirius was in fact safe and that he, Harry needed not to face Voldemort just yet. If this was true, Harry would not want to drag his friends into a worthless and troublesome journey much more hear Hermione tell him that she was right all along.

Kay

Dodging Peeves' Water Balloons at the Entrance Hall




Posts

: 39


Join date

: 2011-02-15



Maybe it's because Ron knows best about the situation and he believes Harry with no second thought and doubt. Ginny, Luna, and Neville didn't know about Sirius Black so it isn't safe to bring them. There might be confusion. In case of Hermione, I think it's also because of her objections and doubts with Harry's capabilities esp. in Occlumency. Hermione will surely wanted to act if there'sa foolproof plan ahead contrary to Ron, who just like Harry, loves unplanned adventures and stuff.

loonyphy

Sitting in Agony in Snape's Potions Class




Posts

: 205


Join date

: 2011-05-16


Location

: Ministry of Magic




---
Permissions in this forum:
You
cannot
reply to topics in this forum