Welcome to our Grand Online Book Discussion!
This month, we will be discussing the
Harry Potter and the Order of the Phoenix.Note:*
We have created a
Bulletin Board
where you can find discussion updates & announcements. If you have questions and suggestions, please feel free to post them
HERE
.
*
Every weekend, a game will be provided where everyone are very much welcome to join.
*
We encourage fun and healthy discussion. Foul and offensive languages/ opinions will not be tolerated. Respect is highly observed.
Thank you very much and we are looking forward to all your responses.
Discussion Leaders,
HG Severusa.Snape & HB Siyuske_Tryeth
Last edited by severusa.snape on 2011-05-31, 03:18; edited 1 time in total
Chapter 29: Career Advice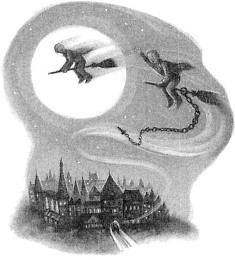 All fifth years are required to attend career advice meetings with their heads of houses. Harry goes to meet McGonagall but Umbridge is there as well. They talk about the possibility of Harry being an Auror (a dark wizard catcher). Umbridge suggests that Harry might not have what it takes to do the job. McGonagall is quite insulting to Umbridge and defends Harry's abilities. Umbridge makes it clear she will try to stop Harry becoming an Auror but McGonagall says that she will make him an Auror if it is the last thing she does.
Fred and George have created a distraction so that Harry can use her fireplace. Sirius explains that James was acting foolishly but he was only a fifteen-year-old boy, like Harry is now. Sirius and Lupin both seem ashamed of their behavior. When they find out that Snape is no longer giving Harry Occlumency lessons, they get very angry. Harry just escapes from Umbridge's office before he is caught.
Harry discovers that Fred and George had turned a corridor into a swamp. As Umbridge is about to punish them, they summon their brooms and take off, announcing that they are opening their new shop, "Weasley's Wizarding Wheezes" at 93 Diagon Alley. The students cheer and applaud as the Weasleys fly off. Even Peeves salutes them!
Question:

What should Harry do about Snape? Having discovered the grounds for Snape's dislike, do you think Harry should apologize for having viewed his memories?
I think he owes Snape an apology for viewing his memory without permission. We wouldn't want someone viewing, touching, or meddling our things without our permission, would we?


loonyphy

Sitting in Agony in Snape's Potions Class




Posts

: 205


Join date

: 2011-05-16


Location

: Ministry of Magic




---
Permissions in this forum:
You
cannot
reply to topics in this forum