Welcome to our Grand Online Book Discussion!
This month, we will be discussing the
Harry Potter and the Order of the Phoenix.Note:*
We have created a
Bulletin Board
where you can find discussion updates & announcements. If you have questions and suggestions, please feel free to post them
HERE
.
*
Every weekend, a game will be provided where everyone are very much welcome to join.
*
We encourage fun and healthy discussion. Foul and offensive languages/ opinions will not be tolerated. Respect is highly observed.
Thank you very much and we are looking forward to all your responses.
Discussion Leaders,
HG Severusa.Snape & HB Siyuske_Tryeth
Chapter 22: St. Mungo's Hospital for Magical Maladies and Injuries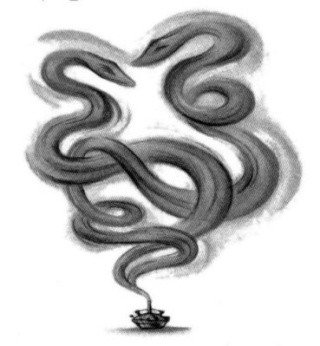 Harry explains his dream to Dumbledore and the he felt he really was the snake biting Mr Weasley, not just seeing it happen. The portraits of past headmasters on the walls also listen attentively and Dumbledore asks them to assist in finding out what happened. One of the other headmasters finds out that Mr Weasley was indeed bitten and is in bad shape. They have taken him to St. Mungo's. Dumbledore sends Harry and the Weasley children to Grimmaud Place using a portkey. Mrs Weasley joins them to let them know that Mr Weasley is alive but not at all well and points out that Harry probably saved Mr Weasley's life.
They all go to St. Mungo's the next day and find him on the First Floor (Creature-induced injuries). Mr Weasley's arm is bandaged and keeps bleeding if they take the bandages off. Moody and the Weasley parents suspect that Voldemort might be possessing Harry.
Question:
What might be the significance of the smoke stream from Dumbledore's instrument forming into a snake and splitting in two?

---
Permissions in this forum:
You
cannot
reply to topics in this forum