Welcome to our Grand Online Book Discussion!
This month, we will be discussing the
Harry Potter and the Order of the Phoenix.Note:*
We have created a
Bulletin Board
where you can find discussion updates & announcements. If you have questions and suggestions, please feel free to post them
HERE
.
*
Every weekend, a game will be provided where everyone are very much welcome to join.
*
We encourage fun and healthy discussion. Foul and offensive languages/ opinions will not be tolerated. Respect is highly observed.
Thank you very much and we are looking forward to all your responses.
Discussion Leaders,
HG Severusa.Snape & HB Siyuske_Tryeth
Chapter 19: The Lion and the Serpent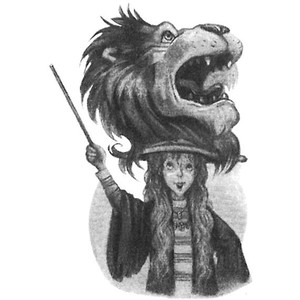 Hermione devises a clever scheme to let the DA members know about the next meeting. She bewitches fake Galleons to show the date and time of the next meeting in small numbers around the edge where they would not normally be noticed. When the numbers change, the Galleon grows hot so that all the members carrying one know to look at the updated time.
Ron is getting better at goal keeping for Gryffindor but is inconsistent. He is very susceptible to taunts from the Slytherins trying to disrupt his concentration. During the Gryffindor/Slytherin match, the Slytherins are all wearing badges saying "Weasley is our King" and they chant "Weasley cannot save a thing, he cannot block a single ring, that's we Slytherins all sing: Weasley is our King" and many similar verses. Despite Ron failing to save many goals, Harry gets the snitch and Gryffindor win.
Malfoy provokes a fight and when Professor McGonagall decides punishments for the Gryffindor players, Umbridge interrupts and insists that Harry, Fred and George be banned for life, even though Fred wasn't even involved in the fight. McGonagall points out that seeing as they are in her house, Umbridge doesn't have the power to punish them. However, Umbridge pulls out Educational Decree Number Twenty-Five through which Fudge gives her the supreme power to punish. Hermione reveals that Hagrid is back.
Question:

Why did Crabbe receive such a light punishment for the same offense as Harry and the Twins? Why does Umbridge always favor Slytherin students?
because according to the book, harry and the twins were actually caught in the act of doing the things but in crabbe's side, his actions were favored by umbridge because umbridge only favors loyal and trusty students and she sees this trait in slytherins.

gen_excelciosempra

Feasting in the Great Hall




Posts

: 78


Join date

: 2011-05-28


Location

: Hogwarts Castle,Hogsmeade




---
Permissions in this forum:
You
cannot
reply to topics in this forum